As of 11 am, 01 May 2017
Local Weather Forecast
Issued at:6:00 AM ,01 May 2017
Valid Beginning: 6:00 AM today until 6:00 PM today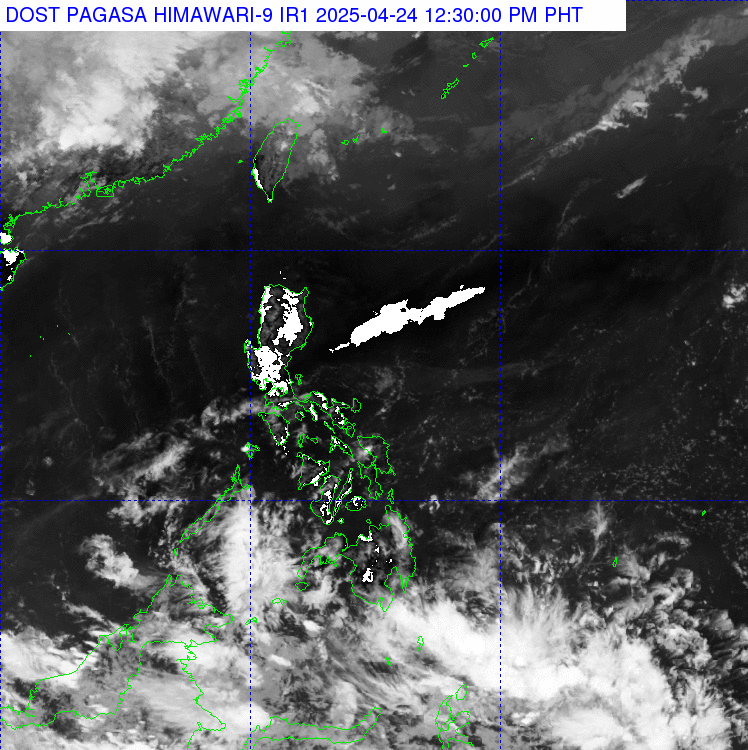 Weather Situation:Partly cloudy to at times cloudy with isolated rainshowers or thunderstorms is expected over Metro Manila and the rest of NCR-PRSD forecast areas. Light to moderate winds coming from the east to southeast becoming southwest over the provinces of Zambales, Bataan, Tarlac, Pampanga and Cavite. The coastal waters along these areas will be slight to moderate.
Local Weather Forecast PDF
Read more...
Astronomical Information
Issued at: 5:00 AM 01 MAY 2017
Metro Manila

SUNRISE TODAY 05:24 AM
MOONRISE TODAY 09:52 AM
SUNSET TODAY 06:00 PM
MOONSET TODAY 10:58 PM
More Sunrise, Sunset, Moonrise and Moonset...
Issued at: 5:00AM 01 May 2017
Tidal Prediction along Manila Bay
(Courtesy of NAMRIA)
HIGHTIDE(TODAY): 1.15m @1:01PM
LOWTIDE(TODAY): -0.17m @9:30PM
Extremes of Temperature and Relative Humidity
Recorded at PAGASA Weather Station,Science Garden,Diliman,Quezon City

MAXIMUM TEMPERATURE(YESTERDAY)
32.1°C ---- 4:00PM
MAXIMUM RELATIVE HUMIDITY(YESTERDAY)
86% ---- 6:00AM
MINIMUM TEMPERATURE(YESTERDAY)
26.2°C ---- 6:00AM
MINIMUM RELATIVE HUMIDITY(YESTERDAY)
55% ---- 4:00PM
Read more: Astronomical Information National Capital Region
Rainfall Warning


ADVISORY
Community AWARENESS
FLOODING is POSSIBLE in low-lying areas
and near river channels


ALERT
Community PREPAREDNESS
FLOODING is THREATHENING in low-lying areas
and near river channels


EMERGENCY
Community RESPONSE
SEVERE FLOODING is EXPECTED
Take necessary precautionary measures
Thunderstorm Warning
National Capital Region Thunderstorm Warning